Best Books On Shoe Fashion You Need Reviewed
last updated
Feb 06, 2019
Does your subscription to Vogue magazine only leave you wanting more? If you find yourself obsessed with all things relating to shoes then try picking up a book all about shoe fashion! You'll be amazed at the gorgeous imagery, informative text, and incredible detailing that presents itself on every page. These make for a great coffee table book or display piece for your nightstand thanks to their captivating outward appearance and compelling content that makes it hard to put one down. Whether it's a timeline of fashion shoes from the beginning styles through to the latest crazes, or a photo-book filled with looks from around the globe, there's something for everyone in these kinds of works.
In a Hurry? The test winner after 5 hrs of research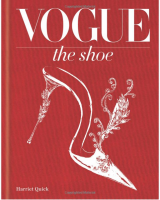 Vogue the Shoe
Why is it better?
300+ Images
Award Winning Author
Looks At 100-Years Of Vogue
Hardcover
In a
Hurry? Editors choice: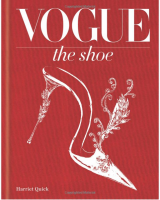 Test Winner: Vogue the Shoe

3
Researched Sources
2369
Reviews Considered
5
Hours Researching
10
Products Evaluated
Style
Accuracy
Features
Value
Release Date
By Default
Top 10 Picks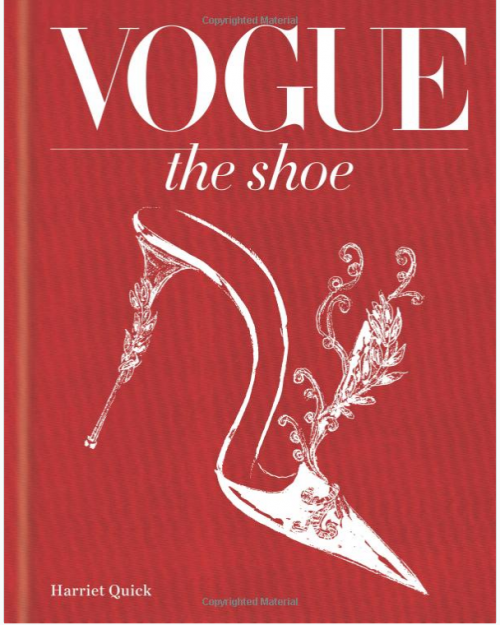 300+ Images
Award Winning Author
Looks At 100-Years Of Vogue
Hardcover
Harriet Quick's Vogue the Shoe is a shoe-filled masterpiece which takes the reader on a journey through a century of British Vogue. It's filled with more than 300 amazing photographs that examine everything from the most basic of clogs to the fiery couture high-heel. Harriet has grouped the imagery into five chapters with each telling a story of the world's most notorious luxury brands.
Harriet Quick is an author, journalist, and editor who has won many awards for her timeless works. She has worked as the Fashion Features Director of British Vogue from 2000 to 2012 and as editor to Frank Magazine. Harriet has dedicated her career to twenty-years of fashion and design, earning both the Vogue Writing Talent Award and The Guardian/Jackie Moore Award for her moving works.
 
Vogue The Shoe is the third piece from the Vogue century and is delivered in an irresistible hardcover format with an embossed Manolo Blahnik sketch on the cover. This book is the perfect choice to sit atop your coffee table or nightstand and will surely present as quite the conversation piece at your next hosting event.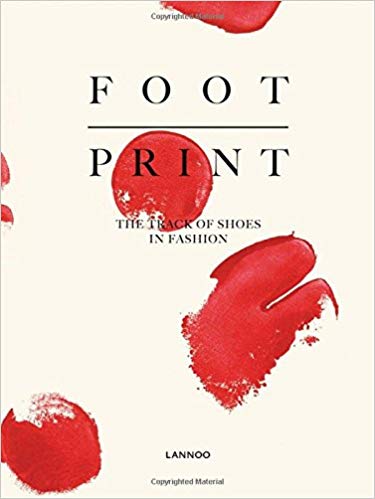 Exclusive Interviews
Never Seen Footage
Exclusive Photo Shoot Images
Features Top Designers
Geert Bruloot's Footprint: The Track of Shoes in Fashion is a one-of-a-kind release! It features must-have exclusives that every fashionista will fawn over. This book offers a rare glimpse into the minds of top designers and includes exclusive interviews with Manolo Blahnik, Prada, Salvatore Ferragamo, and many more. Footprint includes never-before-seen footage and photo shoots that will keep you awestruck for ages to come.
Geert Bruloot is well-known in the fashion scene having co-founded designer shoe store, Coccodrillo and being the organizer of the Antwerp Six. He co-founded two of the most prevalent fashion organizations in Belgium and is a respected name among the most elite of fashion designers.
 
This book is extremely informative and delivers stunning visuals that will satisfy your craving for all things footwear. This hardcover will make a gorgeous coffee table book and is a must-have addition to any fashion-lovers library.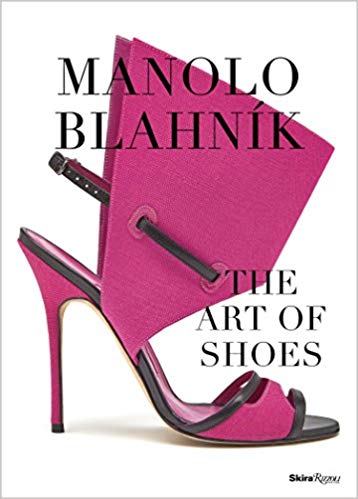 Alphabetical Timeline
Exclusive Interviews
Brilliant Photography
Knowledge-Rich Text
Manolo Blahnik is one of the greatest designers of fashion shoes the world has ever known! His pieces have been toted as being "magical totems of success and femininity," in part, for the sheer elegance and bold silhouettes. Cristina Carrillo de Albornoz has truly captured the beauty that is Blahnik in her masterpiece, The Art Of Shoes. This alluring hardcover takes us on a journey through the creative genius behind this mans passion and the inspirations that helped to shape his creativity. The wonderful thing about this literary work is that it helps the reader to really feel a sense of connection with Manolo himself and to gain a new sense of awareness to the true beauty that shapes his designs.
Cristina Carrillo de Albornoz is an accomplished critic, art curator, and author. She has had works published in the European, the Observer, and the Art Newspaper. Cristina has also been published in Vogue magazines Spanish, German, Italian, and Mexican editions.
 
The Art of Shoes takes the reader on a vivid exploration through the creative avenues of design that inspired Manolo's infamous pieces. Alphabetically chronicled and beautifully illustrated, this work comes alive within its pages. Anyone looking to add an exquisite book of shoes to their collection will be captivated by the Art of Shoes.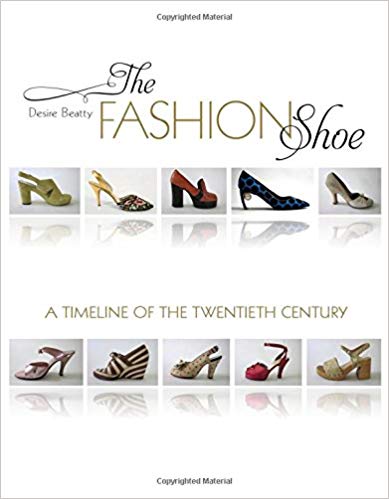 Photo Timeline
1000+ Photographs
256 Pages
Detail-Rich Text
Author Desire Smith Beatty takes the reader for an in-depth journey through the history of fashion footwear in, The Fashion Shoe: A Timeline of the Twentieth Century. This captivating book includes more than one-thousand photos which carefully chronicle every type of fashion shoe from the 1900s through to the millennium. You'll find yourself immersed in the detail-rich information and breathtaking imagery contained within it and you won't want to look away from its fascinating pages.
Desire Smith Beatty has worked as an instructor of the History of Costume at Drexel Universities Antoinette Westphal College of Media Arts and Design. She has penned countless books on fashion over the decades, with some of her most acclaimed works being: The Art of Lingerie, the 1920s to 1980s and Handbag Chic: 200 Years of Designer Fashion.
 
The Fashion Shoe: A Timeline of the Twentieth Century, is a 256-page work that explores fashion footwear decade-by-decade in a stunning photo timeline. Every avenue of the designs included is thoughtfully explained from designers to design features.
5

. Shoes: An Illustrated History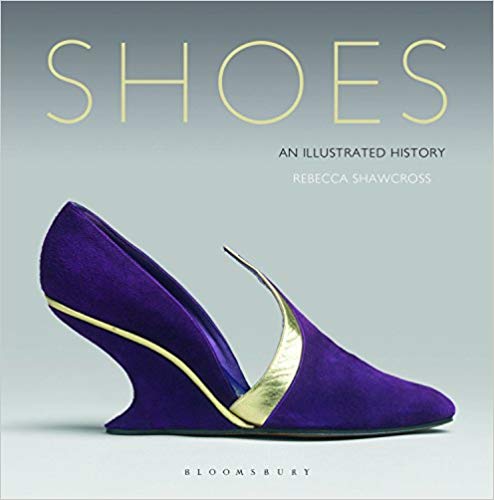 Mini Biographies
Full-Color Images
Informative Text
Hardcover
Rebecca Shawcross's Shoes: An Illustrated History, is a complete look into the world of fashion shoes. Featuring a range of compelling content which includes everything from mini-biographies to pop culture narrative, this book has got it all! Rebecca takes the reader on a journey through the many styles of footwear with the use of full-color pictures and gripping text snippets that are hard to turn away from.
Rebecca Shawcross is the Resources Officer for the Northampton Shoe Museum, a gallery that delves deep into the history of footwear. This author truly knows the ins and outs of shoes and this is displayed in her work, Shoes: An Illustrated History.
 
This hardcover delivers an exquisitely illustrated review of the history of shoes right through from the ancient designs to the most modern trends. Through Rebecca's extensive expertise obtained from working as the curator to the Boot and Shoe Collection (more than 13,000 pairs), she is able to accurately relay her vast knowledge to the reader.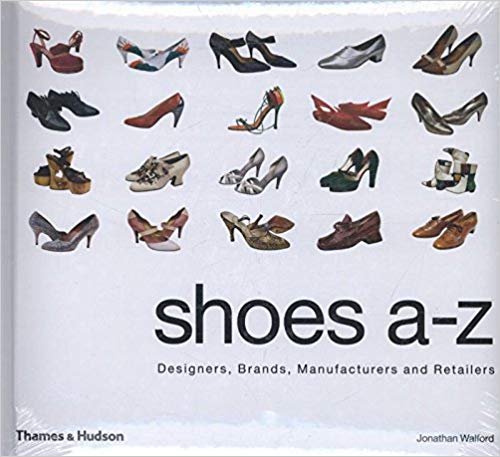 Encyclopedic Designer Guide
350+ Images
Hardcover
Glossary Of Footwear
Only References Until 2010
Jonathan Walford's, Shoes A-Z: Designers, Brands, Manufacturers, and Retailers, is a unique adventure through the world's top designers, trends, and more. Featuring over 350 beautiful photographs and illustrations, this hardcover delivers a glossary of footwear-related knowledge. You'll see more designers then you're probably even aware exist and read lots of amusing facts and snippets that help to make this book as entertaining as it is.
Author Jonathan Walford has worked as the founding curator at Toronto's Bata Shoe Museum and founded Canada's Fashion History Museum. He's written several books on shoe fashion which include his very popular, Forties Fashion. Jonathan's experience and expertise in all things relating to footwear help to make his books a true lesson in knowledge and make for an enjoyable read.
 
Shoes A-Z: Designers, Brands, Manufacturers, and Retailers is filled with interesting facts that you probably never knew and features an encyclopedic-like list of footwear designers from all over the world. With over 350 images and tons of informative text, this little hardcover will keep you busy for a long time to come.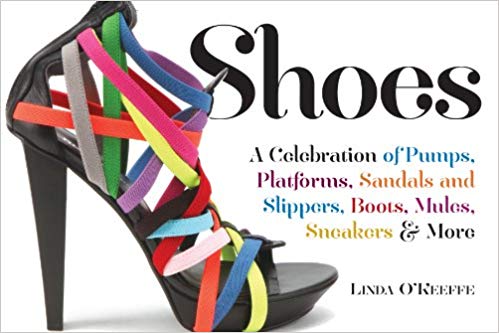 Interesting Facts
Stunning Photos
Acclaimed Author
507-Pages
Linda O'keeffe's, Shoes: A Celebration Of Pumps, Sandals, Slippers, & More, is the kind of book a shoe-lover will find themselves lost in for days! It's fascinating facts and stunning photo's make this paperback a must-have for anyone who enjoys the fashionable side of footwear.
Linda O'Keeffe is a well-known author and lecturer. Her works have been published in many acclaimed editorials including Cosmopolitan, Harpers Bazaar, GQ, and more. Linda regularly lectures and appears on radio and televisions design and fashion shows making her an accomplished wealth of knowledge on the topic.
 
Shoes: A Celebration Of Pumps, Sandals, Slippers, & More is a 507-page book filled with stunning photo's and historicized facts that are guaranteed to keep you entertained while helping you to learn the ins-and-outs of fashion footwear. Its convenient paperback style is perfect for carrying with you while you're on the go and makes this a great choice for lunchtime musing.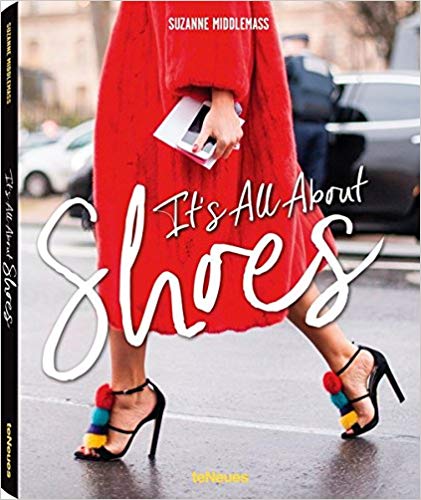 Hardcover
Coffee Table Book
Stunning Imagery
Wide Variety Of Styles
Suzanne Middlemass's enthralling hardcover It's All About Shoes, gives the reader a vibrant glimpse at various styles of fashion-forward footwear. This work includes everything from goth looks to high-end heels and really showcases these styles through her stunning photography. It's All About Shoes is the perfect coffee table book thanks to its gorgeous imagery that delivers a rich and bountiful scope of fashion shoes from far and wide.
Suzanne is a British fashion photographer who has spent the majority of her career in pursuit of street style from all over the globe to photograph. Her works have been included in some of the biggest publications like Vogue, Glamour, and Elle Magazine, among many others, making her a sought-after talent. Having trained as a fine art photographer, she later transcended her talent towards her true passion in the world of fashion.
 
It's All About Shoes, highlights designs from many different styles and delivers classic imagery that will hold you captive in its pages for countless hours. This book will make a great addition to any shoe-lovers collection and is a surefire conversation piece to display on your nightstand or coffee table.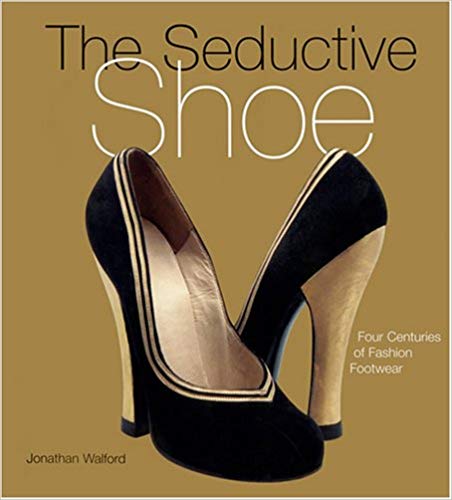 Incredible Imagery
Chronologically Organized
Informative Text
4K Years Of Designs
Jonathan Walford's The Seductive Shoes: Four Centuries of Fashion Footwear is truly an exceptional piece of work! Every page within this books' covers is lined with stunning photography ranging from the ancient designs through to the modern. The Seductive Shoes makes for the ultimate coffee table book and serves as a reference of footwear throughout history.
Jonathan Walford's extensive knowledge of all things relating to shoes stems from his roots as a fashion historian, curator, and collector. He founded the Bata Shoe Museum in Toronto and is continually lecturing on the topics of historic costume and histories. Currently, Jonathan directs his own company, Kickshaw Productions, promoting the story of fashion.
 
The Seductive Shoes presents the reader a chronologically organized look at the most paramount points of shoe design and fashion footwear. You'll find stunning illustrations and informative text that is sure to keep you up all night in anticipation of each page.
10

. The Complete Book Of Shoes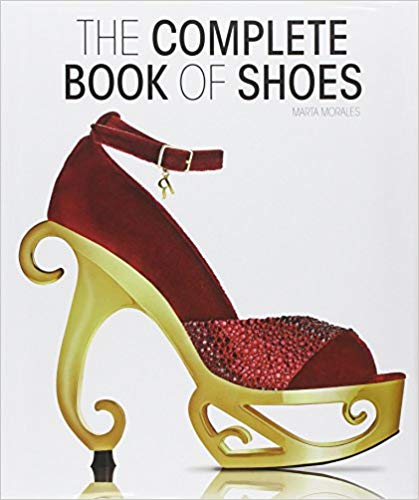 300+ Images
Tours Fashion Capitals
Resource For Designers
Showcases Creative Shoes
Too Large To Take With You
Marta Morales' Complete Book of Shoes guides the reader on a journey through the hot-spots of fashion: Paris, London, Tokyo, New York, and Italy. This work showcases the most stellar of shoe designs and features a collection of over 300 of the worlds most creative looks. The Complete Book of Shoes could serve as a resource for aspiring designers or as a wealth of knowledge for the connoisseur of shoes.
Author Marta Morales has earned her degree in journalism from Barcelona's International University of Catalonia. She has contributed to various national newspapers and fashion magazines throughout her career and is well experienced in the art of footwear. This book is presented in a way that speaks to the reader personally and draws them into the world of the unconventional.
 
The Complete Book of Shoes takes the reader on a tour through some of the fashion capitals from all around the world in search of extraordinary pairs. Featuring 533 creative styles in total, this book is one to remember! It's both exciting and luxurious thanks to the stunning imagery and uniquely descriptive text that will keep you enthralled for hours on end. Designers and design students can benefit from this book and could even use it as a point of reference.
Criteria Used for Evaluation


Style
There are very different styles available when it comes down to books on shoe fashion. Some are presented as a hardcover that's gorgeous cover page screams, "display me on your coffee table." While others are cutely packaged in a perfectly purse-sized frame that you can easily take with you while you're on the go. Some readers prefer to pack their books with them to help pass the time while waiting in line or snacking away at lunchtime and others prefer a more showie design that is sure to be a great conversation piece at their next hosting.
 
Then there are the various styles in which the content presents itself which is largely dependent on the author themselves. Many of these works are entirely imagery and photographs without any text at all, while others are a combination of both elements.
 
Coffeetable books usually offer breathtaking photography with side snippets of fact-filled text. The text must offer an incredible wealth of knowledge condensed into a few short paragraphs in order to keep the reader interested and exciting with every turn of the page. Whereas, books that have only imagery must ensure that the chosen photos offer something new and never-before-seen that will keep the reader stimulated without the use of words.
 
Some of these books are much longer than others and can be upwards of one-thousand pages, though most fall somewhere between two to four hundred. The cover of the book is a big part of its style because this is what will initially draw in potential readers and what will make it look so nice when it's displayed.
 


Accuracy
No one wants to read a book that's inaccurate or contains bits and pieces of the truth. It's important that the work is filled with up-to-date facts that are both verifiable and consistent so that the reader can get the most out of its pages. When it comes to books with shoe fashion as the headliner, there needs to be careful attention paid to the details of every pair that's mentioned.
 
For example, if someone is chronicling the timeline of fashion shoes from the first pair right up to the latest and greatest, dates, designers, images, and locations should all be thoroughly examined for accuracy. Whereas, if a writer's works are specific to one designer than they should be examining the writer themselves. If possible, speaking to the actual designer or people who have worked closely with them, is the best way to obtain factual information. If this isn't an option than very careful research of verified sources is the next best thing.
 
When it comes to book writing, no one is interested in reading hear-say and you never want to read something that the author may have heard from a friend or colleague that turns out to simply be a rumor someone else had told them. Misinformation is the fastest way for an author to lose their credibility and can effectively ruin any piece of work no matter if its filled with useful information, it only takes one inaccurate fact to ruin the whole thing.
 
In some works, the writer isn't trying to relay facts but is rather writing an opinion piece which the readers expect to be filled with the thoughts and ideas that the writer has, rather than actual facts. In this instance the audience is well aware that they aren't reading this piece to gain factual knowledge, but rather, to gain insight into others opinions on a certain topic.


Features
There are many features of a fashion book that can make it spectacular and not everyone will possess the qualities needed to make it something special. Things like imaging, content, and exclusives are all features that can enhance the reader's experience and make it that much more enjoyable.
 
With imagery, bold, bright, and eye-catching photographs are always a nice addition. Though not every image needs to be in color, sometimes a black and white photograph speaks volumes in the world of fashionable footwear. The photographs should be large enough to attract attention and should be tastefully chosen. If the author was able to include never-before-seen photos, then all the better!
 
Illustrations and design sketches are other forms of imagery that add to this kind of reading material. Being able to see the inspiration for your favorite looks laid out on paper in its earliest stages somehow seems to give the reader a sense of connection between themselves and the shoes on their feet.


Value
With fashion books, the value really comes from the quality of its content. What makes these works so special is the insight offered into the realm of the fashion designer, a peek into the hustle and bustle of artistic footwear. Readers find themselves immersed in its pages gaining the knowledge they so longingly yearn for which is why the content needs to be concise.
 
Certain kinds of content really add to the value of a book on shoe fashion including exclusive or behind-the-scenes photographs and interviews. People love to learn new things and to see them for the first time which is why a book with content that very few others have seen makes it something special. Interviews are another way for a book to offer more value to its readers because it delivers words straight from mouths of designers and fashion insiders. Content obtained from interviews has little room for misleading information because it's coming directly from the source.
 
With this kind of work their needs to be high-resolution, top-grade imagery included on practically every page! Photographs, illustration, and design sketches are all ways to add to the power behind the title and are what the reader is looking for. The front and back cover should draw you in, especially for a coffee table book because it's going to be displayed somewhere visible in your home or office.


Release Date
With this kind of book, whether it's brand new, or not, doesn't make it any better. It's more about the kind of information that the reader is interested in. If someone wants to see the history of footwear in a timeline then newer works will have the benefit of including the most up-to-date models towards the end of the timeline which would make it more interesting. Whereas, if someone wants to simply read about shoes from the past, then the book doesn't have to be a newer work to be any better.
 
For books which chronicle a specific fashion season or even an event which took place on a certain date in history, the books could be written closer to the actual year or written recently. Either book could contain that same value in its content because the timeline won't have to include the latest releases.
Expert Interviews & Opinions
Most Important Criteria
(According to our experts opinion)
Experts Opinion
Editors Opinion
Users Opinion
By Default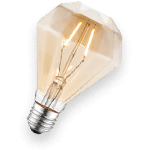 Random Inspiration
Louboutins infamous red sole was inspired by Andy Warhol's 1964 drawing, 'Flowers'.
High Heels Were Originally Worn By Men
High heels were first worn by the cavalry riders of ancient Persia.
The heels kept them more secure in their stirrups during battles.
It wasn't until years later that women eventually adopted the style as their own.
Other Factors to Consider


Bottom Line
When it comes to footwear some of us just plain love it! When you find yourself longing to muse at the most beautiful designs, reading a book about shoe fashion is the best thing to do! Featuring exclusive imagery and beautiful photography, these books are a must for anyone who appreciates the beauty of a good pair of shoes.
 
Whether the work focuses on one designer or many, the content should be rich with interesting facts and must offer something truly special to the reader. Never-before-seen imagery and behind the scenes photo's of fashion shows or designer galas are plenty within these pages and gives something unique to each individual piece.
 
There are various styles of books written for the shoe lover including coffee table books that are meant to be displayed within your home. These are beautifully presented and will often have a larger-than-life cover with vivid imagery that draws onlookers in and leaves them wanting more. These books make for an excellent conversation piece at hostings and are sure to spark quite a gathering of admirers. In order for a book to be considered a 'coffee table' work, it must present something special, visually that is.
 
Some will be presented through photos and illustrations only while some will combine snippets of concise text that tells the reader a ton of information within the least amount of words. But most always, books on shoe fashion will be filled with large eye-catching photography or illustrations.
 
It's very important that the author writes content that is factual and based on verifiable sources because no one wants to read hear-say. People enjoy reading cold hard facts and the author should ensure that their work reflects accurate details and accounts. Interviews with the designers themselves are always an excellent way to present the text portion because that way everything is written directly from the designer's mouth and there's no room for false information. It's also nice when the author writes a timeline of footwear from one period to another because this gives a full scope of the designs.
Frequently Asked Questions
q:

What is a coffee table book?

a:

A coffee table book presents in a lavish and stunning way. It will usually be larger than most and will have a unique and eye-catching cover. Coffee table books are meant to attract attention when others enter the room and will have to be very visually appealing. These kinds will often contain large sized photos throughout and will have snippets of informative and interesting text alongside the pictures.
q:

Are these more like a magazine or a novel?

a:

This kind of book usually isn't written like a novel but is more similar to a magazine only with much more content and photos. The text will usually be shorter snippets alongside a photograph or will be broken up by frequent images. There won't usually be a whole chapter of written text without several stunning photographs or illustrations too.
q:

Are these books very expensive?

a:

No, not at all! In fact, considering the incredible content of most! This is especially true when it comes to never-before-seen photos and shoots, these works are incredibly priced and offer unique value. You can pick up one of these works for less than a subscription to your favorite magazine and you'll get limitless joy from turning through its pages.
q:

Why are some on the list dated from a few years ago?

a:

With this kind of book, it doesn't have to be newer in order to offer the best quality. In fact, the date of publishing doesn't really affect the quality of content because they're specific to a certain time era or an individual designer. In this case, the date it was written doesn't matter so much as the quality of its content and how factual it is. The ten titles featured on this page were chosen based on the sheer quality of their content and the overall value each has to offer.
q:

Are hardcovers too big to carry with me?

a:

Depending on what size of bag or purse you usually travel with, most are too big to conveniently carry with you. Paperbacks are designed more for carrying around, though they aren't as breathtaking as the hardcovers are. These kinds of works are made to display at home or even in your office! They are beautifully crafted and should definitely be displayed in plain view which is why they're often referred to as a 'coffee table book.'