Nantucket Iron Teams Relay 2012
Starts
Location
Fees
Sunday, June 24, 2012
10:00 AM
Nantucket Island
Jetties Beach
Nantucket, Massachusetts 02554

Contact Information:
Event Organizer Website

Team: $300
Individual: $100
18&under Team: $100
18&under Individual: $50
6-Legs: Run, Paddle, Swim, Beach/All terrain run, Bike, Road Run

The unique 6-leg race consists of a sprint, then a paddle in Nan Sound, swim in the same waters, transitioning to a beach/all terrain run, a cross-island bike leg and culminates with a 6-mile run to the finish at the venerable Chicken Box. Great for an individual. Ideal for a team! A family-style barbecue follows. Get a team, tell your buddies. You can't lose. Neither can the kids.
Welcome to Nantucket Iron Teams Relay! It's the 32nd annual community race for a cause – the kids. MYNantucket, formerly BBBS on Nantucket is a community-based program modeled on national standards that have been proven effective over the years in helping children and youths face challenges in their lives simply by having an adult friend. Through the years we have served hundreds of island children and foresee continued steady growth. We also run Early Bird Breakfast Buddies where high school seniors and juniors meet their elementary school "Breakfast Buddy" for breakfast, board games and conversation. Over the years, we have mentored hundreds of children and youths - and served them thousands of pancakes.

So, Run, Paddle, Swim, Bike for the finish. Enjoy and have fun. You'll be helping the kids as well!

"Everything you wanted to know about the race...and more!" CLICK HERE!
Visit the Event Organizer's Website
Additional Information
In-person Registration
You will be able to register in-person or for teams at The Chicken Box Saturday, June 23 from 3:00PM till 6:00PM or at The Jetties on Sunday, June 24 from 7:00AM till 9:00AM. Bring a friend for 'Early Bird Coffee.'
The Course
It's the same challenging course as last year! It's eye-popping! It's exciting!. It's for the kids! MYNantucket is the beneficiary.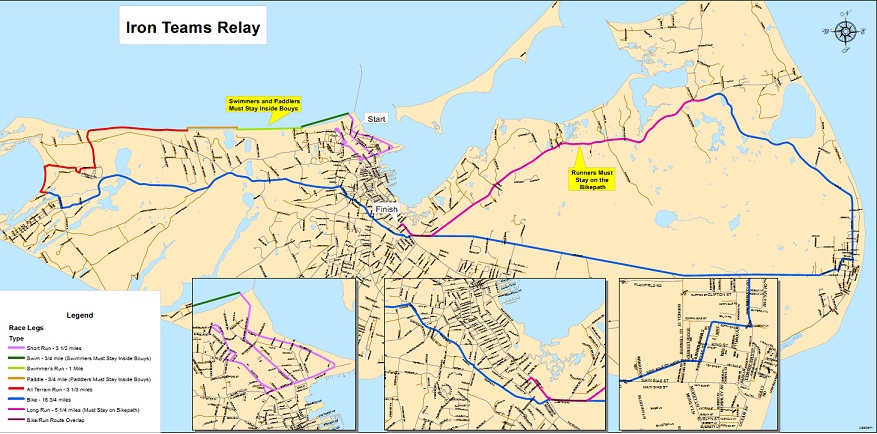 ---
Comments